| | | |
| --- | --- | --- |
| | ORKA | |
---
---
Welcome to ORKA!
ORKA is a rare kaon decay experiment to be performed at Fermilab, using the CDF magnet ( CDF hall ) , with primary beam from the Main Injector operating at 95 GeV. ORKA seeks a high precision measurement (~5%) of the branching ratio for the reaction K+→π+νν which occurs at the level of one in 10 billion decays and is highly sensitive to new physics effects. The experiment will study a rich array of other processes. ORKA employs a low energy stopped kaon beam and builds on the techniques developed by the BNL E949 and E787 experiments which made the initial observations of K+ → π+ ν ν. ORKA is scoped to run for three to five years and obtain a sample of >1000 K+ → π+ ν ν decays.
Description of the experiment
| | |
| --- | --- |
| | |
| ORKA detector schematic diagram | CDF COT removal (the ORKA detector fits within the COT) |
The table below shows the expected event yields or branching ratio limits to be achieved by a five-year ORKA run compared to current results.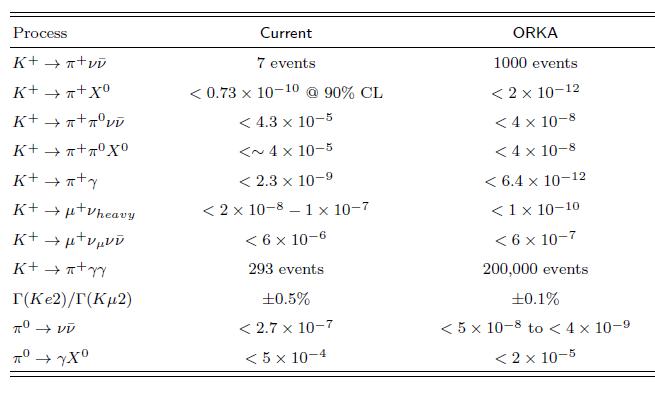 K+→π+νν Results from BNL E949
E949 observed three K+→π+νν candidate events in the phase space region below the K+ → π+ π0 (Kπ2) peak (PRL101:191802). The branching ratio, based on a total of seven candidate events in the entire E787+E949 data sample, is BR=1.73+1.15-1.05x10-10. (8/18/2008)
The E949 K+→π+ν ν candidate event from the phase space region above the Kπ2 peak (PRL93:031801). (3/23/2004)
---
News
---
General Information
Collaborating Institutions: ASU, BNL , FNAL , INFN-Napoli, INFN-Pisa, Insitute for Nuclear Research (INR) Moscow , JINR, Notre Dame University, TRIUMF, Tsinghua University, Universidad Autonoma de San Luis Potosi, University of British Columbia, University of Illinois, University of Mississippi, University of Nothern British Columbia, Univerity of Texas - Arlington, Univeristy of Texas - Austin
---
---
Related Links

Last update: November 26, 2013 Steve Kettell, BNL (kettell@bnl.gov)